TEST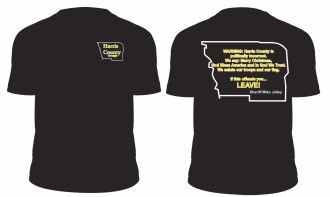 100% of the profits from the sale of these shirts will be donated to Sheriff Jolley's favorite charities, Georgia Sheriff's Youth Homes and Ride for Miracle Fund.
T-shirts are $12-19 each, depending on the size and sleeve length.
Shipping is $4 for first shirt and $3 for each additional shirt ordered.
Select the size of your first shirt and add it to the cart; you will be able to add additional shirts to the cart after you have added the first one.
Use this column if you will PICK UP your order:
Short Sleeve Youth (S-L) Adult (S-XL) $12.00

Short Sleeve Adult XXL $14.00
Short Sleeve Adult XXXL $16.00
Long Sleeve Youth (S-L) Adult (S-XL) $15.00

Long Sleeve Adult XXL $17.00
Long Sleeve Adult XXXL $19.00

Use this column if want your order SHIPPED:
Short Sleeve Youth (S-L) Adult (S-XL) $12.00

Short Sleeve Adult XXL $14.00
Short Sleeve Adult XXXL $16.00
Long Sleeve Youth (S-L) Adult (S-XL) $15.00

Long Sleeve Adult XXL $17.00
Long Sleeve Adult XXXL $19.00